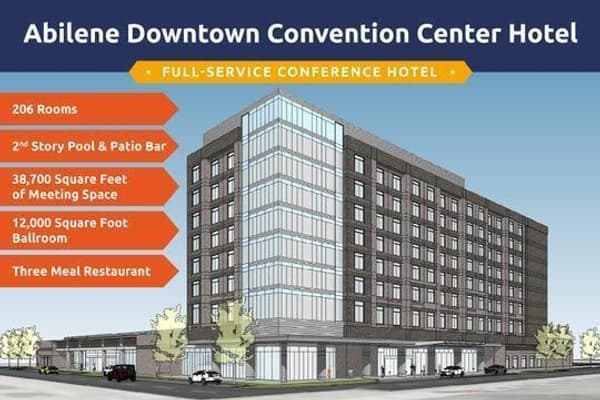 A new convention-style hotel in downtown Abilene moved a big step closer to reality. A poster of the hotel says there will be 206 rooms, a second-story pool and patio bar, 38,700 square feet of meeting space, a 12,000-square-foot ballroom and a restaurant open for breakfast, lunch, and dinner.
City property on the west side of the 500 block of Cypress Street has been cleared as the predicted site of the hotel and the project should take around six to nine months to build, according to a city of Abilene news release. "I strongly believe this will be seen as a positive for the citizens of Abilene,"
City Manager Robert Hanna said. "A full-service hotel in Abilene's downtown will continue to encourage and attract new private sector investment in our community's heart."
This real estate news article was original published at https://www.reporternews.com/story/news/2019/10/18/major-milestone-reached-downtown-hotel-agreement-signing/4021166002/